These delicata squash pancakes with bacon will be your new favorite pancake. Fluffy, slightly sweet and delicious!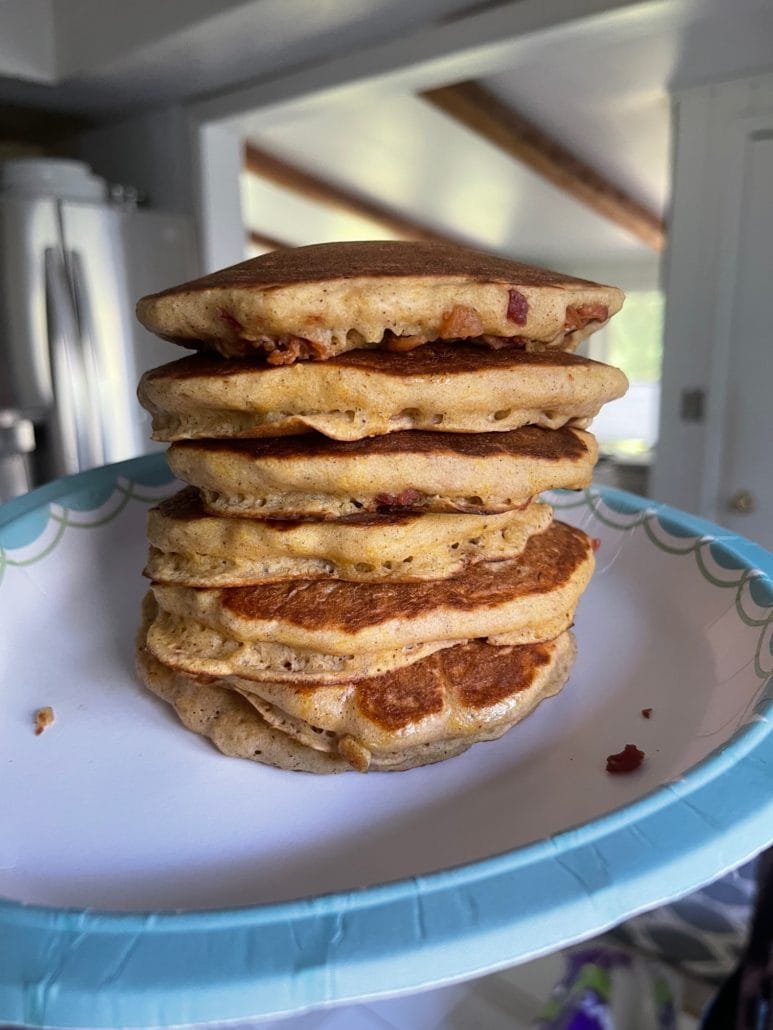 How do you make pancakes fluffy?
Letting your pancake batter sit is the magic to fluffy pancakes. My suggestion is a minimum of 30 minutes – believe me it will make all the difference in how fluffy your pancakes are.
How do you cook delicata squash in the microwave?
Let's just say I learned the hard way to be sure to put some knife cuts in the delicata squash before microwaving for 4-5 minutes, depending on how big the delicata squash is. I failed to do that one time and it exploded in my microwave and was a bitch to clean – ha! I cook the delicata squash first, then let it cool slightly before slicing and scooping out the seeds. For this recipe I scooped the pulp out of the skin, but the skin is completely edible.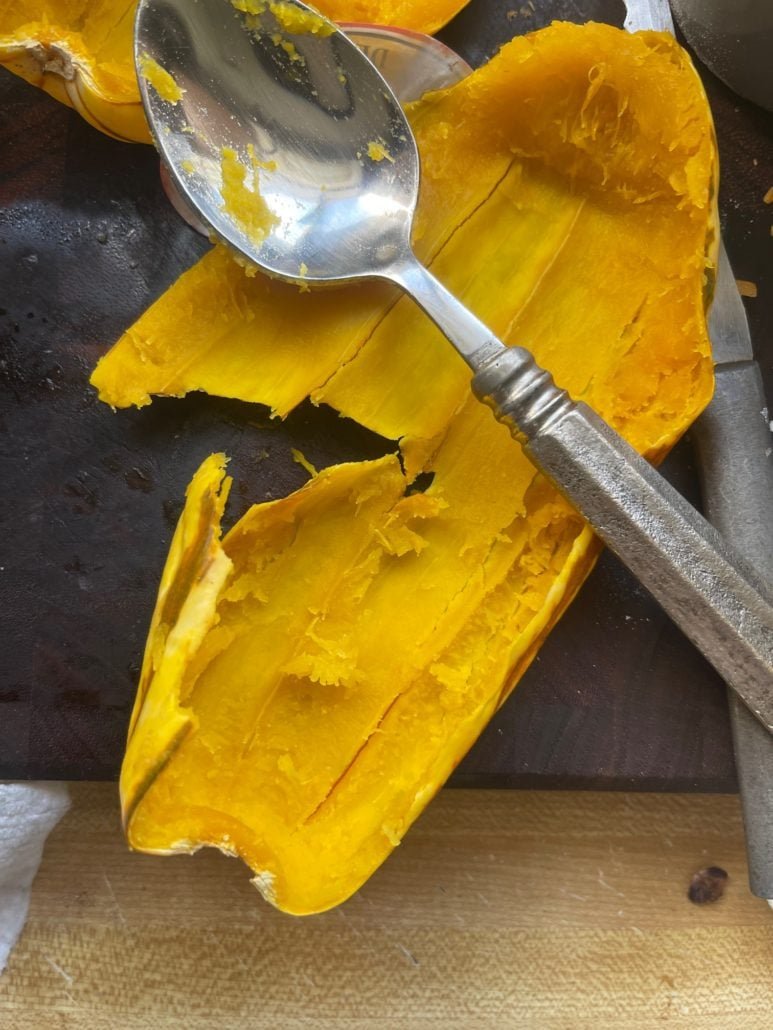 To make extra smooth pancakes, I used my old fashioned potato ricer. This not only makes fluffy mashed potatoes, but I was able to really puree the delicata squash for these pancakes.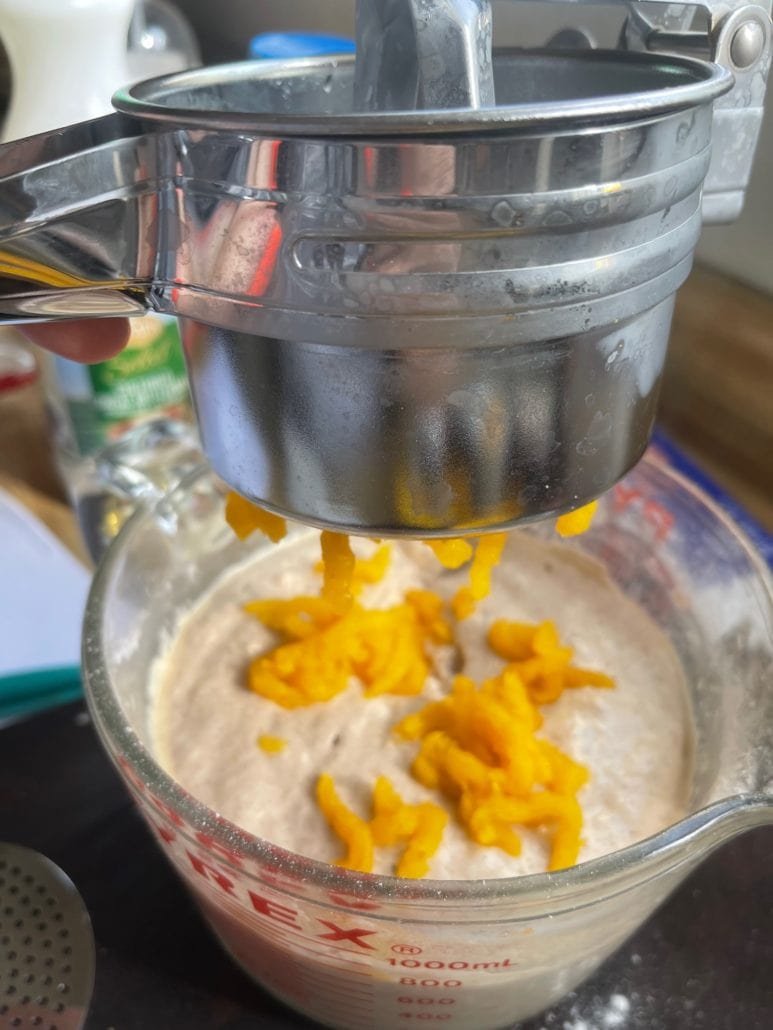 Once I placed the 1/4 cup batter in the skillet, I added one teaspoon of real bacon bits to each pancake – the best idea ever! When they pancakes were fresh off the pan, the bacon bits were crispy and added a nice kick of salt that paired great with the sweet delicata squash.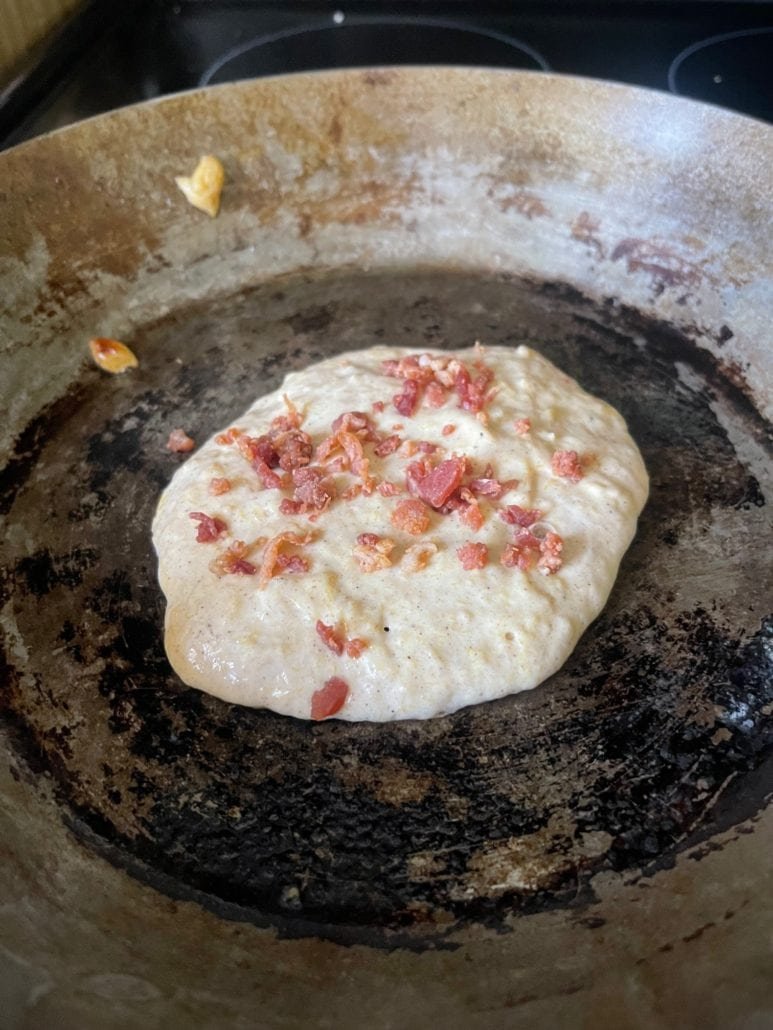 Delicata Squash Pancakes with Bacon
Yes, delicata squash strikes again! So excited to share these with you – promise you won't taste the squash – a great way to sneak veggies into your breakfast.
Ingredients
1.25 cups self-rising flour
1 tablespoon Spenda brown sugar
2 teaspoons baking powder
1 teaspoon pumpkin pie spice
1/2 teaspoon salt
1 large egg
1 cup lowfat buttermilk
1 cup cooked delicata squash
2 tablespoons light butter, melted
7 teaspoons real bacon bits
Instructions
Whisk flour, sugar, baking powder, spice and salt in a bowl.
In a separate bowl mix the buttermilk, delicata squash, egg and melted butter.
Fold that mixture into dry mixture and fold just until incorporated.
If you can, wait at least 30 minutes to let the baking powder do it's magic.
Using a 1/4 cup measure for each pancake, cook over medium low heat about 2-3 minutes a side.
Serve with fresh fruit and sugar free pancake syrup.
Notes
On all #ww plans these are 3 points each. If you count calories or macros, each one is 126 calories, 2 fat, 21 carbs, .8 fiber and 4.4 protein.
Not a fan of delicata squash? Check out my Banana Bacon Pancakes.
Let me know if you makes these? And if you do – please come back and leave a review – please and thank you!
The post Delicata Squash Pancakes with Bacon appeared first on My Bizzy Kitchen.